Music provides an escape and comforts us in times of need. Music creates a form of expression for creators. Music provides financial security for those who have chosen this path as a career. Through a health and wellness lens; music brings a sense of safety and security for children in hospitals, evokes communication to non verbal children on the autism spectrum, sparks memory in patients living with dementia, and brings comfort to those at end of life care.
In partnership with Music Heals and Unison Benevolent Fund, SoundON presentations provide an opportunity to invest in the power of music during a time of crisis.

If you believe in the power of music, please donate!
WHAT IS SOUNDON?
SoundON is a unique platform to celebrate BC musicians and raise funds for the recovery of our sector.

SoundON provides BC presenters and artists with direct support to get back to doing what they do best: creating unforgettable live music experiences. But it's more than a relief campaign, it's a whole new way to discover BC music through curated, online experiences. Streaming live music performances, concerts, DJ sets and workshops, all on one free website, SoundON will have something for everyone to enjoy. All funds raised will support BC artists, presenters, venues, crew, more SoundON shows, the important work of music therapy charity Music Heals, and charitable causes across BC. With your support, we can help bring the music back to BC!

Visit soundON.ca to find out more
WHERE YOUR DONATION GOES
By making a donation to SoundOn, you are supporting the BC music industry sector's recovery. All funds raised will go directly back into the music community with a percentage used to produce more shows and provide direct funding to presenters, artists, crew, production and venues, while the other portion will help support two prominent music charity initiatives in BC.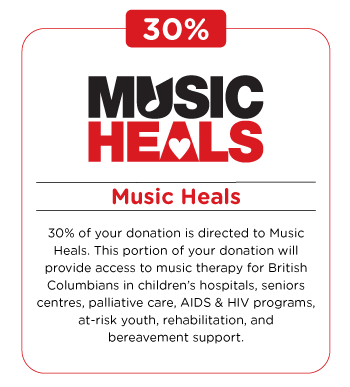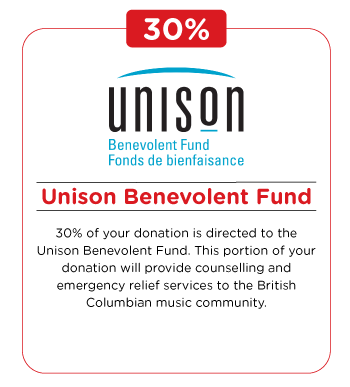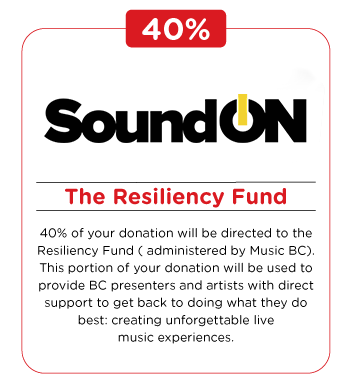 Help turn the SoundON and support live music and BC's music community through employment opportunities, emergency relief services and health and wellness programs.